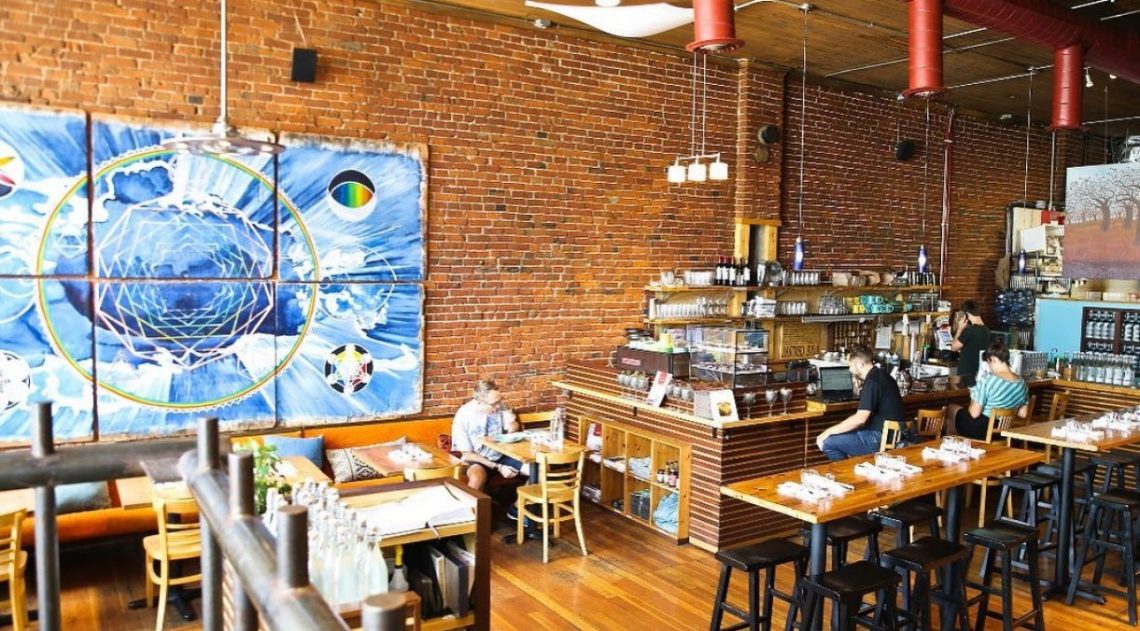 Top 23 coffee shops in Kansas City
You may wonder where to find a good coffee shop in Kansas City while traveling there. There are so many great caffeine concoctions to discover that we decided to find the top 23 coffee shops that you should visit in Kansas City.
Coffee shops in Kansas City's downtown and river market
For those who are staying or traveling around Kansas City's downtown and river market, here are our top 6 cafes to visit:
Thou Mayest
John Steinbeck (a famous American author) described "Thou Mayest" as "life is a journey" which the company strongly believes in. As each individual is on a journey, so is the company. From the farm to the cup, this coffee shop will let you live a beautiful experience in the world of coffee.
PT's Coffee Roasting Co.
This cafe can be found in Topeka. PT's specializes in the service of Direct Trade coffee and espresso. Moreover, it has become a mainstay in the local coffee scene due to its hip hangouts located Downtown and in the Crossroads.
Made in Kansas City Café
On most weekends, the Downtowners like to sample cereal milk lattes from this cafe. Furthermore, shopping at this location means that you support local bakers, makers, artists, roasters, brewers, distillers, and more.
City Market Coffee
This cafe has been a beautiful and historical place since 1996. Treating yourself by drinking fresh coffee from this cafe will surely impress you.
Blip Roasters
This cafe is all about Motorcycles. The latter is located on Woodswether Road in a beautiful brick urban building. Not only is the ambiance exquisite for bikers, but the coffee sold there is fair-traded and home-roasted. And if that wasn't enough, they even serve delicious cold brew, bottled with the name Blip Blast on the sticker.
Spokes Coffee|Café|Cyclery
Spokes Cafe has two branches downtown, which is a big plus if you want to try their coffee. They open from morning until nighttime, serving breakfast, lunch, and dinner with various alcoholic drinks. Needless to say, you going to love it!
Coffee shops in Kansas City's Crossroads Arts District, Union station; Crown Center, and nearby
If you are staying or traveling around Kansas City's Crossroads Arts District, Union station & Crown Center, here are our top 7 cafes to hang out and take some sips of coffee:
Messenger Coffee Co.
This cafe resides in an enormous 2 story building with a nice terrace on the rooftop. It is famous for its roastery and bakery. The latter is located in the center of the Crossroads Arts District.
Parisi Coffee
It is one of the most robust coffee shops in the region. Do not miss out to get some coffee, tea, or other caffeine solutions at this Union Station café.
The Filling Station
Convenience is what The Filling Station serves. It is located in Crown Center and Union Hill (among others). Plus, their drinks will keep you energized throughout the day.
The Roasterie
This cafe is one of Kansas City's original roasters. It is claimed to be excellent by many coffee experts. If you fancy visiting them, they have 9 uniquely designed locations across Kansas City!
Goat Hill Coffee & Soda
Don't be fooled by its minimal dimensions. This coffee shop's back-to-basics menu offers you a mighty punch in the Westside neighborhood.
Mildred's Coffeehouse
Mildred's Coffeehouse has been known for serving the best breakfast sandwich in the city for over 20 years. Moreover, it is a popular morning meeting spot that you should absolutely visit.
Wild Way Coffee
This coffee shop serves well-crafted coffee in a mobile camper all across town. It has inspiration from off-kilter artistry and the need to find the best spots for selling their delicious products.
Coffee shops in Kansas City's Westport and Country Club Plaza
For those who are staying or traveling around Kansas City's Westport and Country Club Plaza, here are our top 4 cafes for you to relax:
Kaldi's Coffee Co.
In 1994, Kaldi's Coffee was first founded in St. Louis' DeMun neighborhood. It is certainly one of the best go-to caffeination places in the Country Club Plaza.
Oddly Correct
This coffee shop is famous for its crafted steamed milk drinks and delicious biscuits. The ambiance is chill and funky, so you should totally make a stop at this Westport coffee shop.
Broadway Café and Roasting Co.
It is known that most coffee fans pay for a trip to this Westport cafe just to visit the origins of KC's modern caffeine scene. Therefore, do not hesitate to visit if you are in its surroundings!
Monarch Coffee
Monarch may be the prettiest cafe in the metro. So do not miss the chance to take some pictures or sip a cortado at this Midtown hotspot.
Coffee shops in Kansas City's greater metro
If you are staying or traveling around Kansas City's greater metro, here are our top 6 cafes to take some sips of good coffee:
Second Best Coffee
It is an espresso-centric slow bar placed in the Waldo neighborhood of South Kansas City. Do not hesitate to grab a burrito to go with your espresso drink from this nice location.
Post-Coffee Company
They expertly roast their single-origin beans star in this cafe. Moreover, Lee's Summit people love their extensive dining menu.
Crows Coffee
It is located in Waldo, South Plaza, and Red Bridge. It is claimed that this cafe makes one of the finest coffee in the city.
Colony KC
This coffee shop can be found in North Kansas City. You can also grab a bite and catch a late-night live music show in the venue next door.
Splitlog Coffee Co.
This cafe offers well-made drinks by using a regularly rotating selection of high-quality roasters. Therefore, if you were looking for a place with an element of surprise, that would be it!
Café Equinox
This cafe is full of chlorophyll from all types of popular houseplants, trees, shrubs, annuals, perennials, and so much more. You can grab a coffee and soak in the greenery.
With our top 23, you can find the coffee shop that will resonate the most with you. Enjoy your coffee in Kansas City!