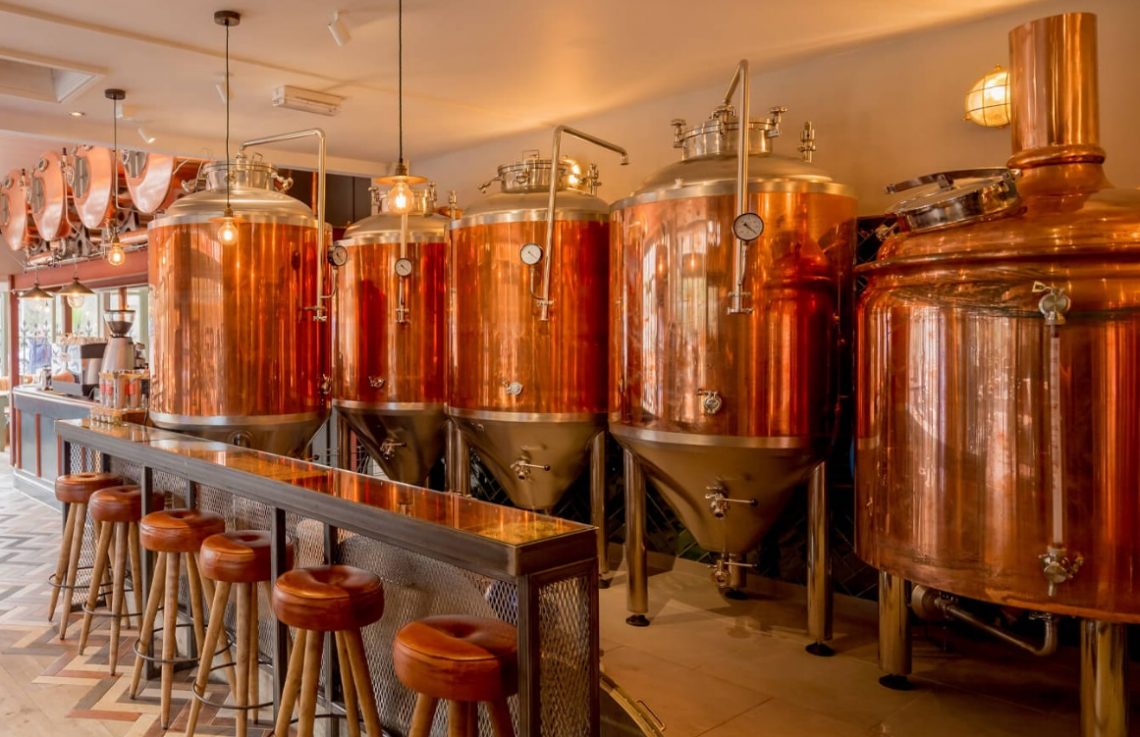 Travel Guide: The Best Local Breweries in Kansas City
Kansas is the largest city in the state of Missouri, United States, most notably for its jazz music, football, and barbecue meats. Also, it is the most recommended destination for crafted beer lovers since there are many exceptional breweries offering tasty and exclusive menus. Therefore, we listed the top-ranked tourist attractions as well as interesting breweries in Kansas City. Let's explore!
Get to know more about Kansas city
Kansas City, also shortly called KC or KCMO, is one of the most populous and historical cities in the United States. Moreover, it is also an ideal destination for sports lovers, culture & art exploration, and for a family relaxing time as well. Below are the examples of world-famous tourist attractions in this wonderful city:
National World War I Museum and Liberty Memorial
Liberty Memorial, which looks like a notable tall monument, is dedicated to honoring people who served and died during World War I while the museum was built to collect and exhibit historical pieces such as artifacts, weapons, letters, films, etc. Thus, it is the place where you can learn world history and remember the great war's impact.
American Jazz Museum
As we mentioned above, Kansas is the city of Jazz so it founded the American Jazz Museum in 1997 to exhibit the memorabilia (like posters) and representing the history of jazz music as well as influential musicians, for example, Charlie Parker, Big Joe Turner, etc.
LEGOLAND
LEGOLAND is a dream place for children. Without a doubt, they will enjoy the stunning lego models and different activities. The most noticeable model is a replica of the city that was built with over 1,500,000 lego bricks. Additionally, there are also many entertaining shows that you can watch in 4D with your little ones.
The best breweries in the Crossroads Arts district
Now that we got these attractions out of the way, time for some real adult stuff! The Crossroad Arts district is a lively community where you can find many local retail stores, art galleries, and famous restaurants. Of course, there are a lot of breweries for you to enjoy, and here are our top 5 popular brewing companies of Kansas City:
Border Brewing Company
Border Brewing offers a variety of craft beers you can choose from, best-known for its complex flavors.
Brewery Emperial
If you are a big fan of traditional beers, we recommend Brewery Emperial, one of the most popular breweries in the Crossroad Arts district. The owners invented various unique beverages by mixing many types of beers: American beers, European beers, Saisons (Belgian ale), and even some bitters (a pungent liquor usually found in cocktail drinks).
Casual Animal Brewing
Casual Animal Brewing is a cozy and local-friendly brewery focusing on crafting the best quality beer for its clients.
Torn Label Brewing Company
Thanks to its fresh and exciting beer flavor, Torn Label attracts a lot of beer aficionados and it is sometimes difficult to find an available seat, especially on the weekend.
Double Shift Brewing Company
In the beginning, this brewery was founded by local firefighters for extra income. This is the reason why they have chosen the name "Double Shift". This easy-going brewery crafts all kinds of beers and their drinks are impressively unique!
Top 5 famous local breweries in Downtown Core
Next, the downtown including its surrounding neighborhood is also a place of choice if you want to drink a glass of delicious beer in Kansas City. Below are the best famous breweries in this area:
Boulevard
Since 1989, Boulevard has been the largest brewery in Kansas city with more than 600,000 barrels in stock. It sells craft beer not only for local travelers but also ships to the 40 nearby states as well.
Alma Mader Brewing
For beer aficionados, Alma Mader Brewing will offer you exceptional flavors that you cannot find elsewhere.
Green Room Burgers; Beer
Another favorite on our list is Green Room Burgers & Beer who produces its tasteful handcrafted beers with love and passion.
Stockyard Brewing
If you prefer to savor authentic traditional ales, Stockyard is an ideal brewery that is floating in Kansas' heritage with its numerous regional beers and high-quality experience.
BKS Artisan Ales
From regular American beers to Belgian ales, you will find everything in this cozy brewery. Since they've spent a lot of time crafting their beers, the folks at BKS guarantee the best flavor in every sip. Note that they sell only a limited amount of each beer so hurry up before they are all sold out!
Lee's Summit, a perfect destination for beer drinkers
Once arriving in Kansas City, we highly recommend visiting Lee's Summit that is located just 20 miles away from the downtown core. Here, you will find everything you want such as an amusement park, zoo, theatre, shopping centers, and exceptional breweries as follows:
Fringe Beerworks
Founded more than 150 years ago, Fringe Beerworks is considered the most ancient brewery in the city and it is still famous to this day.
Grains & Taps Brewery and Taproom
You can find high-quality homebrew supplies at Grains & Taps. Also, it is a recommended place to enjoy a delicious pizza along with a glass of beer or wine.
New Axiom Brewing
If you are both barbecue lovers and beer drinkers, you can have it all at New Axion Brewing in the heart of the Lee's Summit downtown.
Kansas City is indeed a perfect place for those who love drinking unique beers. Thus, let's plan a visit to Kansas City for your next vacation and you won't regret it.