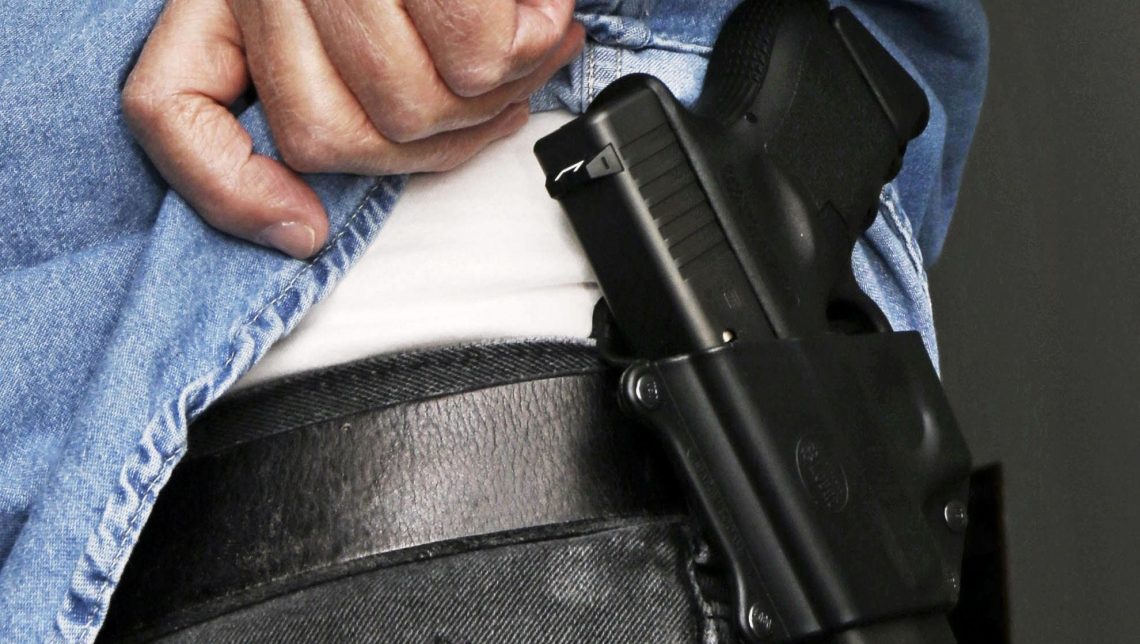 Concealed Carry Law for Clinton County, Missouri and Neighbouring States
Since the beginning of 2017, citizens of Missouri have had the right to carry a concealed weapon upon their person. They can do so without a CCW permit. However, this does not apply to neighbouring states, in which the carrier will need the CCW permit that can be acquired at the Sheriff's office. Below, you will find information on how to acquire a concealed carry permit (CCW permit) in Clinton County, Missouri, and who can apply for it.
No Reciprocity with Other States
The possibility of carrying a concealed weapon without a permit does not go beyond the State limits of Missouri. That is because there is no reciprocity regarding Constitutional Carry with the other States surrounding it. Therefore, a person wanting to carry a concealed weapon beyond these lines must acquire a CCW permit. But first, it is obligatory for anyone requesting that kind of permit, to attend a firearm safety course, given by an approved instructor. Only then can they go to the Sheriff's office to apply for the CCW permit.
If a person is granted a CCW permit, it is valid for five years. Ever since 2013, applicants for such permits do not have to divulge any particular information to the State of Missouri Department of Revenue.
Who is eligible for a CCW Permit, in Clinton County, Missouri
In order to be eligible for a CCW permit, the applicant must be a current resident of the State of Missouri. This includes members of the United States armed forces and their spouse, whom are based in Missouri. Someone honorably discharged from the army can also carry a concealed weapon. The person has to be an American citizen or a legal resident, of nineteen years of age, or older. Also of note: A member of the armed forces can carry a weapon from age eighteen.
Someone who has pleaded guilty or has been convicted of a crime that has kept them in prison for over a year is not eligible. That applies to any conviction in any States of the USA. An exception to that rule occurs, if the crime was classified as a misdemeanor and punished by a sentence shorter than two years. If there was use of a firearm, silencer, an explosive weapon or a gas gun, in the act of the misdemeanor, the CCW permit will not be delivered.
The person requesting a CCW permit in Clinton County cannot have been convicted, pled guilty or entered a plea of "nolo contendere" (I don't wish to contest) to a misdemeanor crime that involved violence in any way. That is true for a period of five years after the conviction. It is also true regarding the use of substance while driving (DUI), if it happened two times or more. It also applies for someone being in possession of controlled substance within five years pf the date of application for the CCW permit.
To be granted a CCW permit, the person cannot be a fugitive from the law. If they are currently charged of committing a crime punishable by law for a period of over one year of imprisonment, they won't receive a permit either. This does not apply if the crime in question is a misdemeanor, punishable by law of a maximum of two years in prison. That is unless the misdemeanor in question was committed with a firearm, a silencer, an explosive weapon or a gas gun.
Finally, the person requesting the CCW permit in Clinton County cannot have been discharged under dishonorable conditions from the US Army. He or she cannot have been considered mentally incompetent or sojourned in a mental hospital or any other mental health facilities, in any State of the United States. That is true, unless the person is five years removed from the judgement or a sojourn in such menta health facilities.
If the person is deemed eligible, according to all the aforementioned points, they still have to comply with the firearm safety training. Until they can provide documentation that proves the completion of the course, a CCW permit will not be delivered to them. The signed document also mentions that the individual is not, to the best of his knowledge, a respondent of a valid full order of protection that is still in effect.
Identification and Application Fee
Once the form has been filled, it needs to be signed and brought back to the Sheriff's office. To prove that the person is who he/she pretends to be, they will have to show up with a valid Missouri driver's licence, a Missouri non-driver's licence, a military identification with the order that confirms that the person is currently stationed in Missouri or a DD-214 military discharge form.
You cannot pay the application fees with a personal check, a credit/debit card, or with cash. You will need to go to the bank to get a money order, paid out to the order of the Clinton County Sheriff's Revolving Fund. No other payment will be accepted. The amount to pay is $100.